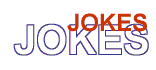 "JOKE OF THE MONTH"
The rules are simple to win: No "xxx" jokes, sorry. Kit Menkin cannot win (relatives, friends and employees can enter and win). Please note, if in the decision of the judges there is no "best" joke, a previous month may be included, and like in horseshoes, there are no ties. Winners of previous months can also win a second or third time - There is no limit.
Please send me your favorite joke. The first one to send it, not only gets the credit, but a good bottle of wine or a box of chocolate (the winner's choice).
---
Winner for June
Winner of the Joke of the Month for June is
Chris Cross of Hayward, California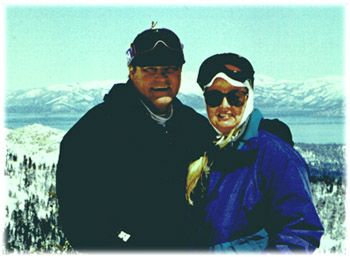 His prize(s) are a bottle of 1997 Duckhorn Vineyard Napa Valley Sauvignon Blanc, 1996 Clos Du Bois Sonoma County Pinot Noir and a box of Schurras Fancy Chocolate
Chris Cross and his brother own Harcro Sales in Hayward, California. Chris is the sales manager. He also has been active on AOL for some time, having the e-mail address " GoGiants." He and his family have been selling wholesale plumbing and air conditioning supplies for over 25 years, representing 9 manufacturers in Northern California and Reno, Nevada. www.plumbingnet.com/index.html
You will see on their website they have a warehouse and distribute mostly items the commercial plumber or refrigeration mechanic might use to install plumbing or air conditioning systems. Harcro is also a customer of American Leasing, who has leased them computer systems, forklifts, and other equipment.
Chris is married to Vicki Olson-Cross, his second time around, he says, and they ski, travel, and have fun all the time. They just came back from skiing in Colorado and that is why we are late in putting up this biography. Vicki owns a home based flower business in Cambrian Park, San Jose: Flowers by Victoria ( vickioc@aol.com ).
Chris has two kids in college ( Mike in Minneapolis and Megan in Detroit ). He collects music CD's, occasionally playing DJ professionally and for free. He also considers computers " the modern day hot rod, so I have to add them as a hobby, too."
Joke of the Month
Two Irish Drunks
Two Irish drunks are walking home in the dark along a country road.
"Faith, Mike," exclaims Paddy at one point, "we've stumbled into a graveyard!"
"And how d'you know that?" asks Mike.
"Look," says Paddy, "here's the stone of a man who lived to the ripe old age of 103!"
"Glory be, Paddy, and was it anyone we knew?"
"No, Mike," replies Paddy, "'twas someone named 'Miles from Dublin'!"
Past Jokes of the Month
1999
May
John Turnbull of Mendocino, California
1995 Turnbull Cabernet Sauvignon, Napa Valley, Oaksville
April
Jerry Jacobs, San Rafael, California
One pound box of Godiva Chocolate

March
Bob Bressler, Los Altos Hills, California
One pound box of Godiva Chocolat
February
R. Donald Chapman, San Jose, California
1994 Chateau Latour a Pomerol, prop. Mme. L.P. Lacaste Loubal
January
Jim Beck, Los Gatos, California
1994 Estate Grown Copper-Garrod Cabernet Sauvignon, Santa Cruz Mountain Appellation
1998
December
Russ Mattos, Mountain View, California
Two great tickets plus parking pass for the Monday Night San Francisco 49ergame at 3Com Park
November
Kim Davison, San Jose, California
Case of 1998 Campus Oaks Chardonnay
October
Dan Sorkin, Piedmont, California
Two pound box of Godiva Chocolate and second time winner,
one pound box of Godiva Truffles
September
Rosalie, Santa Cruz, California
1995 "Reserve Speciale" Barons de Rothschild (Lafite)Medoc
August
Dan Sorkin, Piedmont, California
One pound box of Godiva Chocolate
July
Jim Swander, Bellevue, Washington
1989 Ridge Santa Cruz Mountain Monte Bello
June
Nanette Weintraub, Los Gatos, California
One pound box of Godiva Chocolate
May
Walter J. Lunny, III, San Francisco/Glen Ellen, California
1976 Bolla Amarone Classico Chianti
April
Jim Hanzlik, Watsonville, California
One pound box of Godiva Chocolate