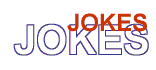 August---Dan Sorkin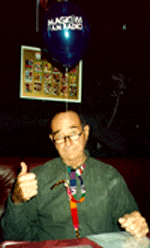 Dan Sorkin has been a radio disk jockey for over fifty years. He is 71 years old, still going strong, riding his motorcycle, flying his airplane, doing "vacation relief" on the radio, and expanding his web site, almost like a franchise, all over the world: http://www.stumps.org
He sends many great jokes, plus collects them, for use on the air, his web site, the "Gimpy" newsletter, and for his friends' general amusement.
He has been making me laugh since 1964 when I was the news editor at KFRC radio in San Francisco and he was the number one morning disk jockey (he actually beat out Don Sherwood, who "owned" the local airwaves). Radio is musical chairs and Dan has played the game very well.
He was injured in a motorcycle accident, which changed his life. He writes about the incident in an early edition "Gimpy," the official Publication of "Stumps 'R Us."
It was a sweet summer evening in 1968 in Tomales Bay, California when I powered up my Harley-Davidson motorcycle for the 45 minute ride back to Oakland. I was at the peak of my career in radio broadcasting. After 12 successful years in Chicago, I was invited to join the highest rated radio station in the country as the afternoon Dive-Time Host on KSFO in San Francisco.
I couldn't believe my good fortune. I had an airplane, a new car, a great apartment in the most beautiful city in the world and a contract that would make me a millionaire.
Then it happened...I took a curve on the Novato highway too fast and left the country road at better than a hundred miles an hour. I totaled myself and the motorcycle! I broke my back and almost every bone in my body. My left leg was a mess and had to go...and it went.
I spent a year in the hospital thinking.
The doctors asked me to visit other potential amputees in the hospital because I decided to adopt a cheerful, positive attitude on what had happened to me. Perhaps I could pass it on to them, give them some tips, answers to problems or questions that I had asked and had gotten answers to.
Although in 1968 the name did not exist yet, "Stumps 'R Us" was born. Through 1989, I had been counseling amputees on a one-to one basis. Doctors, nurses, social workers and others who knew what had happened began calling me, asking if I had the time to make face-to-face calls... then, ad-libbing on the radio in 1989, I recounted an old story of a very funny encounter with an amputee and asked the listening audience to come up with a name for an Amputee Support Group that had a sense of humor, met socially on a monthly basis, and was for people willing to share what they had learned about life and how to cope.
Since this story, Dan's organization "Stumps 'R Us" has grown nationwide, his web site is visited often. He still has time for face-to-face meetings, hosting non-profit fund raisers, including the Salvation Army, do radio "vacation relief" and considers himself "semi-retired."
He and his wife Jody live in Piedmont, an affluent section of Oakland. He requested the pound of Godiva chocolate because he says he and Jody will enjoy it with Cognac.
Sherlock Holmes
Sherlock Holmes and Doctor Watson were on a camping and hiking trip. They had gone to bed and were lying there looking up at the sky.
Holmes said, "Watson, look up. What do you see?"
"Well, I see thousands of stars."
"And what does that mean to you?"
"Well, I guess it means we will have another nice day tomorrow. What does it mean to you, Holmes?"
"To me, it means someone has stolen our tent!"