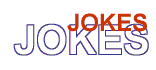 "JOKE OF THE MONTH"
The rules are simple to win: No "xxx" jokes, sorry. Kit Menkin cannot win (relatives, friends and employees can enter and win). Please note, if in the decision of the judges there is no "best" joke, a previous month may be included, and like in horseshoes, there are no ties. Winners of previous months can also win a second or third time - There is no limit.
Please send me your favorite joke. The first one to send it, not only gets the credit, but a good bottle of wine or a box of chocolate (the winner's choice).
---
Winner for May
John Turnbull of Mendocino, California

is the Winner of the Joke of the Month for May
His prize: 1995 Turnbull Cabernet Sauvignon
Napa Valley Oakville
John Turnbull worked many years in the corporate world as Sales Manager. Five years ago at the age of fifty, when the youngest son graduated from high school, he and his wife Debbie decided to move from Saratoga, California to the quaint northern California town of Mendocino to become artists. They create Noah's Arks with animals. They sell to galleries all over the USA and private collectors all over the world.
They live with a collection of animals such as 4 mini horses, 3 Icelandic ponies, 4 dogs, 5 cats, 3 sheep, 9 ducks, 3 rabbits and chickens. They enjoy the view of a pond from their living-room deck and the quiet of country living on the Northern Coast of California.
Joke of the Month
Microsoft reports Windows 2000 will not be released until 1901
This was in response to information I sent out regarding the issue of Windows Office 2000 in June, but I did not know when the new version Windows 2000 would be released.
This was a tight contest, as many of them are. Wally Lunny would have won, but only joke panel members votes are counted. Not his wife or two sons votes. They protested, but there are only a two rules to the contest---only panelists can vote ( they are the original six plus each monthly winner sits on the panel ) and I cannot contribute a joke ( anyone else can, relatives, friends, employees are invited to participate ).
I should note that Dan Sorkin has won twice. He most likely recognizes jokes he submitted, but votes for the funniest one. John Turnbull also didn't vote for his own joke. He voted for Wally's:
The Lottery Winner
A woman gets home, runs into her house, slams the door and shouts, "Honey, pack your bags, I won the lottery, BIGTIME!"
The husband says "Holy Cow, sweetheart, that's GREAT! Should I pack for the ocean, or should I pack for the mountains?" She says, "I don't give a damn, just get the hell out of here!"
Past Jokes of the Month
1999
April
Jerry Jacobs, San Rafael, California

March
Bob Bressler, Los Altos Hills, California,
February
R. Donald Chapman, San Jose, California, 1994 Chateau Latour a Pomerol, prop. Mme. L.P. Lacaste Loubal
January
Jim Beck, Los Gatos, California 1994 Estate Grown Copper-Garrod Cabernet Sauvignon, Santa Cruz Mountain Appellation
1998
December
Russ Mattos, Mountain View, California Two great tickets plus parking pass for the Monday Night San Francisco 49ergame at 3Com Park
November
Kim Davison, San Jose, California Case of 1998 Campus Oaks Chardonnay
October
Dan Sorkin, Piedmont, California, Two pound box of Godiva Chocolate and second time winner one pound box of Godiva Truffles
September
Rosalie, Santa Cruz, California, 1995 "Reserve Speciale" Barons de Rothschild (Lafite)Medoc
August
Dan Sorkin, Piedmont, California One pound box of Godiva Chocolate
July
Jim Swander, Bellevue, Washington, 1989 Ridge Santa Cruz Mountain Monte Bello
June
Nanette Weintraub, Los Gatos, California, One pound box of Godiva Chocolate
May
Walter J. Lunny, III, San Francisco/Glen Ellen, California 1976 Bolla Amarone Classico Chianti
April
Jim Hanzlik, Watsonville, California. One pound box of Godiva Chocolate