ROSES
All-American Rose Selection
http://www.rose.org
Here are the winners since 1940 to present; the best roses by panel test for each year.
*** * ***
American Leasing Growing Roses...
Check out our Roses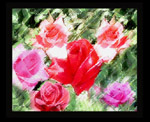 *** * ***
Article - A parade of gorgeous new roses All-America selections in
time for January planting
*** * ***
Canadian Rose Society
http://www.mirror.org/groups/crs/
*** * ***
Find My Roses
http://www.findmyroses.com/
This has nice photographs and is well laid out. I found the rose selection limited, but interesting.
*** * ***
Fred Edmund's Roses
http://www.edmundsroses.com
*** * ***
Rose Garden in the San Francisco Bay Area
This material is condensed from an article by David Laws in the San Jose Mercury News. This article includes links to the respective garden and directions how to get there.
*** * ***
San Francisco Bay Area Rose Societies.
East Bay Rose Society


List of Rose Societies outside the San Francisco Bay Area
*** * ***