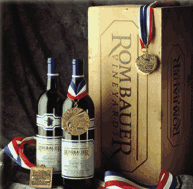 Rombauer Winery
www.rombauer.com
3522 St. Helena Highway,
St. Helena, Calif.
94574
800-622-2206
Rombauer Vineyards is located north of St. Helena, 2.5 miles north of the intersection of Deer Park Road and the Silverado Trail.
Great merlot, Cabernet Sauvignon, and if you like oakey Chardonnay, here it is. You rarely will find this wine on sale most places as it sells out quickly. $26 a bottle. One of my favorites. Reminds me of the wine pioneer San Jose State Winemaker Brian Pendleton used to make here in Santa Clara.